THIS IS HOW WE DO

℠

: Go Play Outside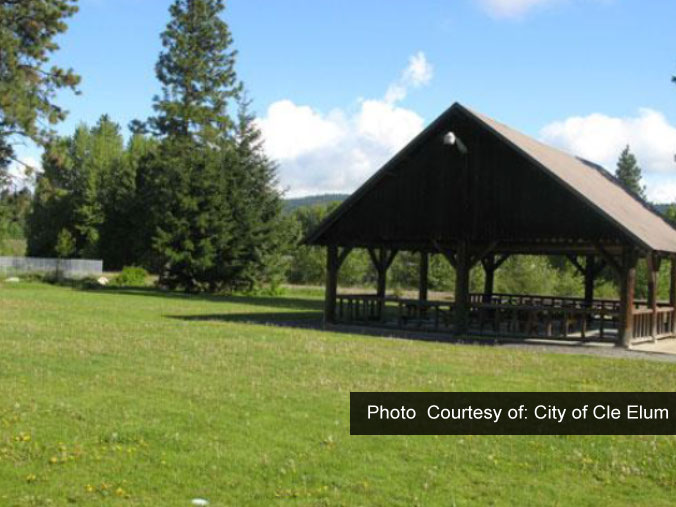 Your neighborhood park may not seem like much but to countless kids it is a place of adventure and fun. Living near a park will not only give your kids a place to play, it will also give you a chance to get outside to enjoy the beauty of your community and meet the people who you might see every day. Cle Elum is full of places to play or, if you are too old to enjoy a slide or swing set (but I mean, who is), a place to gather with friends and enjoy some the last bit of that summer heat.
Do you have a family gathering coming up? Maybe a company barbeque or a picnic among friends? Well Fireman's Park is the place for you. This is not a park in the traditional sense but it does have its perks. The park is maintained by volunteers and is located along South Cle Elum Way and next to the Yakima River. This is a perfect spot for a picnic party; there is an enclosed cooking area, picnic shelter and bathrooms. There are even horse shoe pits and fire rings just in case you need something else to do. Fireman's Park is available for day use only and if you want to use the park call
Kyle Nicholson
to make reservations.
Take me out to the ball game! Or in this case, the local park. Memorial Park is great place for a quick game of catch or playing a full nine innings. Memorial Park is located on the corner of South Cle Elum Way and Grant Street. This park features six youth baseball fields, a concessions area and restrooms. The park is open to everyone but if you want to reserve a field contact
Kevin Larimer
.
But if baseball isn't for you, don't worry because Cle Elum has other parks perfect for enjoying the sports you love. Centennial Park is a park made for football and soccer with a big open field and two upright goal posts. This park is open for everyone but it is a first come first serve park so if you are planning a big game better get there early. And if you are really looking for a unique sport to enjoy, then head on over to the Cle Elum Disk Golf Course. This is not as much a park as it is an outdoor recreation area but it is still a fun way to get moving. Disk golf or frisbee golf is exactly what it sounds like, players throw frisbees at goal markers to score points. The course is located near Hanson Ponds and directions can be found
here
.
Don't discount the traditional parks though, they are still great places to play and spend time with friends. City Park, located between First and Second Street, is a traditional park with a lot to offer. There is a playground for the kids (or kids at heart), a play field perfect for an afternoon game of catch or tag, and a skatepark. And just in case your day out goes over lunch there is a picnic shelter with tables for you to enjoy your lunch. There are also restrooms on the premises so you don't have to worry about cutting your play day short. The shelters are available for reservations by calling City Hall at the number found
here
.
Posted: August 8th, 2018
Back to Cle Elum Blog