Tour your way through the area's agriculture and history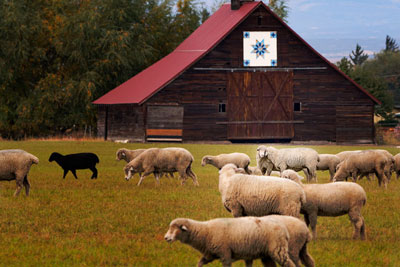 Cle Elum is celebrated for its outdoor recreation, hearty cuisine and sunny spring weather. However, Cle Elum is also home to generational farms, agriculture and a rich rural history.
The Barn Quilt Trail of Central Washington
pays homage to this traditional way of life.
Barn quilts (large panels painted with quilt-inspired patterns and designs) are mounted throughout the valley to remind locals and visitors that agriculture plays a big role in Washington State. These quilts also celebrate the folk-art of the American quilt and the women that have traditionally stitched these squares.
Cle Elum and the neighboring town of Roslyn share 16 barn quilts between them, offering visitors the ideal self-guided road trip through these mining and farming towns. Whether you begin at the Carpenter House in town, explore the barn quilt and railcars of the Iron Horse Inn Bed & Breakfast or cruise down Upper Peoh Point Road, you are sure to be enraptured by the designs and the barns that house them.
Before you head out on this self-guided tour, visit the Cle Elum Visitor Center at 312 West 1st St. for a map and directions. You can also visit
www.barnquiltswashington.org
for interactive maps, family histories and much more!
Enjoy the local scenery, learn about the agricultural history of the area and show us your favorite barn quilts by using the hashtag #howwedocleelum online!
Posted: April 30th, 2016

- Post by Hayley Harrell, Photos by Lia Simcox
Back to Cle Elum Blog