Santa's Village & Lighted Night Parade
Saturday, December 2nd, 2017 - 6pm
Crafts, Food, Hot Drinks, Music, Holiday Items & MORE in SANTA'S VILLAGE!
Join us this year for Christmas in Cle Elum. Saturday is full of activities from Photos with Santa, Crafty Crafter Bazaar, Kiwanis Christmas Tree Sale, Holiday New & Used Book Sale, Outdoor Nativity Scene, Warming Fires, Mtn Voice Christmas Choir, and so much more. Santa's Village will open at 12 noon for photos with Santa's Friends, vendors, food, sweet treats, and workshops.
Banner Photo Courtesy of the NKC Tribune
Download Event Poster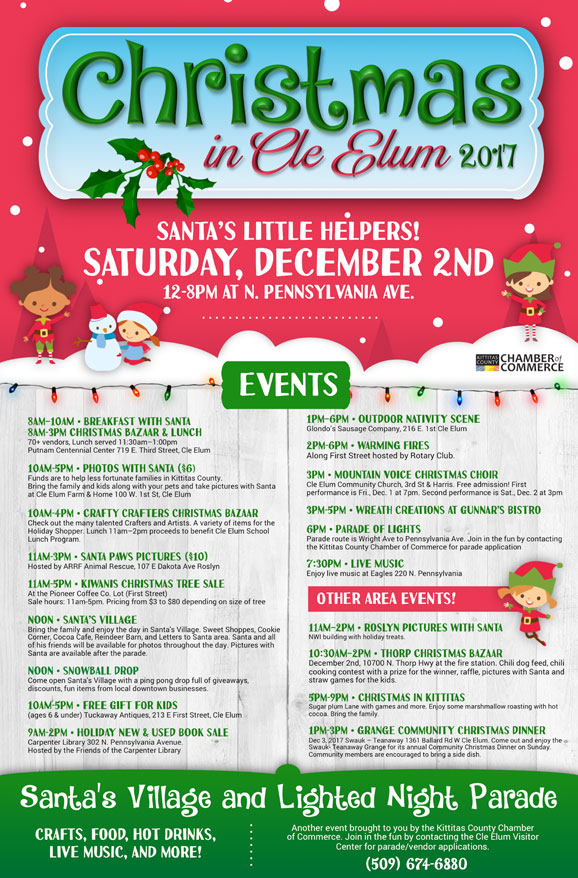 SCHEDULE OF EVENTS
Registration & Line Up Begins at 4:30pm at Wright & Railroad Avenue
Judging (During parade line up) from 5:30pm
Parade Starts promptly at 6pm
Starts at Wright Avenue ends at Pennsylvania Avenue
8AM - 10AM
Breakfast with Santa, AND
8AM - 3PM
Christmas Bazaar and Lunch
70+vendors, Lunch served 11:30AM-1:00PM
Putnam Centennial Center 719 E. Third Street, Cle Elum
10AM - 4PM
Photos with Santa
- $7.00 or 2 for $10
Cle Elum Farm & Home 100 W 1st Street, Cle Elum; proceeds benefits a local family in need
10AM - 4PM
Crafty Crafters Christmas Bazaar
Check out the many talented Crafters & Artists. A variety of items for the holiday shopper. Lunch is from 11-2pm; proceeds to benefit Cle Elum School lunch program.
11AM - 3PM
Santa Paws Pictures
hosted by ARRF Animal Rescue at RadioShack, 107 E Dakota Avenue, Roslyn.
11AM - 5PM
Kiwanis Christmas Tree Sale
at the Pioneer Coffee Co. Lot (First Street)
sale hours: SATURDAYS 11am - 5pm • Pricing from $3 - $80 depending on the size of the tree.
NOON
Santa's Village
Bring the kids and enjoy a day in Santa's Village. Sweet Shoppes, Cookie Corner, Cocoa Cafe, Reindeer Barn, and Letters to Santa area. Santa and all of his friends will be available for photos throughout the day. Pictures with Santa are available after the parade.
NOON
Snowball Drop
Come open Santa's Village with a ping pong drop full of giveaways, discounts, and fun items from local downtown businesses.
10AM - 5PM
Free Gift for Kids
(ages 6 & under)
Tuckaway Antiques, 213 E. First Street, Cle Elum
9AM - 2PM
Holiday New & Used Book Sale
Carpenter Library 302 N. Pennsylvania Avenue,
hosted by the Friends of the Carpenter Library
1PM - 6PM
Outdoor Live Nativity Scene
Glondo's Sausage Company, 216 E. First Street
2PM - 6PM
Warming Fires
Along First Street hosted by UKC Rotary Club
3PM
Mountain Voices Christmas Choir
Cle Elum Community Church, 3rd St. & Harris Ave.
Free Admission; First performance is Friday, Dec. 1st at 7:00pm. Second performance is Saturday, Dec. 2nd at 3pm.
6PM
Parade of Lights
Parade route is Wright Ave. to Pennsylvania Ave. Join in the fun. Contact Cle Elum Visitor Center, 509.674.6880 for a parade application form.
7:30PM
Live Music
Enjoy live music at Eagles: 220 N. Pennsylvania.
Download the Event Poster
for more information and view Other Area Events!