With a blossoming community of artists sharing their passion with the residents and guests of Cle Elum, there are plenty of ways to get creative during your visit. As you enjoy our area, add these destinations to your itinerary to view and purchase the works of local artists and support our creative community.
Pacific Crest Creatives
Pacific Crest Creatives' mission is 'to enhance people's lives through art experiences.' They hope that, by bringing the works of regional artists to their showroom, the community will be able to integrate art into their daily lives. They accomplish this mission by selling art, offering classes and studio space, and having art supplies for sale. One of the greatest aspects of Pacific Crest Creatives is that they feature regional and local artists. Not only that, but they also help those artists expand their reach by selling their work on the PCC website, while also offering a competitive rate to those artists to help better their lifestyle and have more opportunities. In addition to this, they offer classes for different skill levels, different mediums, and with different pricing options to truly make art accessible to everyone. Pacific Crest Creatives prides itself on helping artists in any way they can, so they donate five percent of sales to non-profits based on the choice of the artist. Overall, Pacific Crest Creatives is a wonderful choice for community members to enrich their lives by engaging in the artistic realm, all the while supporting local artists.
Woodward Arts
Woodward Arts is located at 490 Iron Monarch Loop in Cle Elum and was founded by Kathleen Woodward. She is an artist that lives by faith and listening to her heart. Her life is always changing focus, but she loves to consistently express herself by painting the living, breathing earth around her in vivid color. With current circumstances, one of the best ways to view her art is through the online gallery on her website, which can be found at
kathleenwoodward.com/galleries/
and at
kathleenwoodward.com/all-paintings
.
Rustik Kreations
Though typically people do not associate furniture with other art mediums, Rustik Kreations sure challenges that viewpoint. Rustik Kreations specializes in unique items that are truly one of a kind. They collect their own raw materials and then process them into the finished products that they sell. As such, every item they make has its own personality and color variances. Some of their products are on display at several outlets such as Thompson's Hearth & Home and Marenakos Rock Center, but because the work is custom, they do welcome calls and emails with inquiries if you have something specific in mind. It is also important to note how resourceful Rustik Kreations is, as most of the raw wood that they use comes from salvage operations (for example trees damaged by storms or trees which were cleared for construction projects). Plus, they individually assess every piece of wood that they acquire, and decide for how long it needs to be dried before it is cut to preserve its color and character best. They also use up most of the wood that they acquire so that little ends up being wasted. All in all, Rustik Kreations is a company that is amazing at what they do. They show that art can truly come in many forms, by creaturing furniture, doors, pens, and more that cannot be deemed as anything other than spectacular, useful pieces of quality art.
Cone Falls Needle
Cone Falls Needle has worked and partnered with others to create magnificent installations that can be seen in several locations throughout Washington. If you visit their website, you will be able to see a glimpse of some of their work and perhaps decide to go on a little adventure to see the pieces in person. Small to large creations in the form of metal sculptures as well as intentionally designed wooden walls seem to be Cone Falls Needle's primary artistic focus, and one can't help but marvel at these displays.
Carpenter House Museum & Art Gallery
This building houses a very unique experience, as it is a 1914 mansion in which Frank Carpenter, the first successful banker in Cle Elum and a former mayor, resided in with his family. The original furnishings are still in the house and the main floor exhibits different local artists' work each month. These exhibitions are put on by High Country Artists, which is an upper Kittitas County art group. This is a great place to visit to be able to step into the past while experiencing a gallery feel.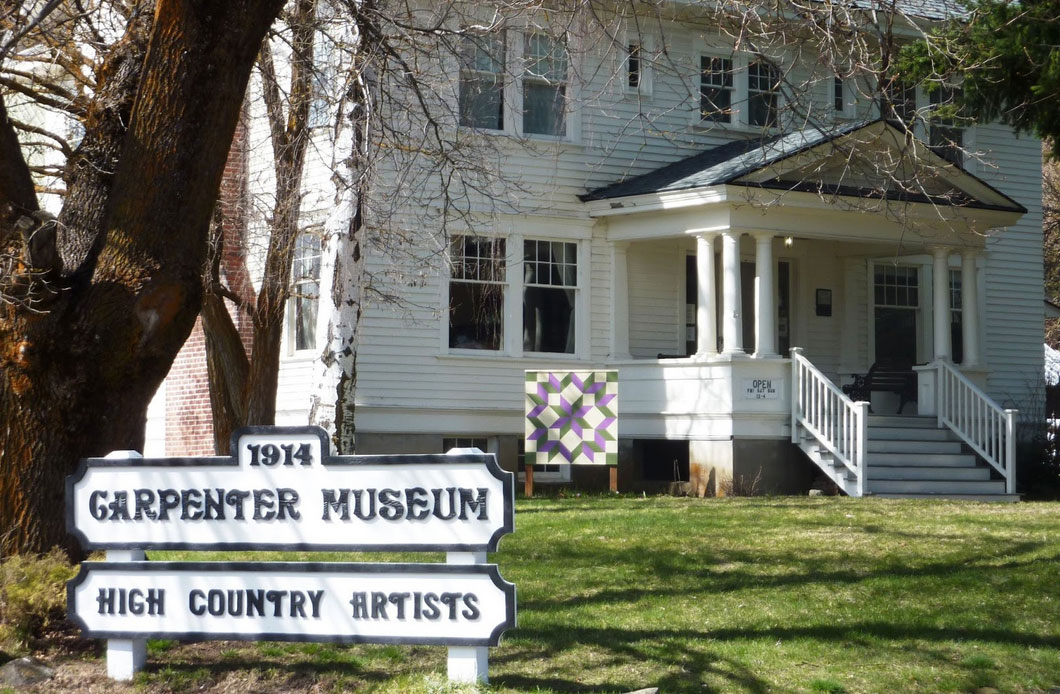 Art is unique and is such a modest word for the vast array of mediums that it covers. There are many forms of art around us and many ways in which we can support local artisans. The list above is just a small selection that we offer, and there are definitely more abound.