The chill in Cle Elum can't stop us from enjoying our winter wonderland town. We have discovered five wonderful ways to get you through this winter and even help you get a kick start on your New Year's resolutions! According to Business Insider, 80% of New Year's resolutions fail by February. If you want your resolutions to stick, we recommend getting out of the house, even if the dreary weather is telling you not to! So, embrace the season and take part in one or all of our favorite ways to enjoy the cold in Cle Elum!
1. Pioneer Coffee Roasting Co.
Cozy up inside
Pioneer's
charming cafe with a hot drink to warm your body and your heart this winter! There's no better feeling than getting comfy in this homey coffee shop and looking out the frosted window to see a beautiful snow-covered town. Take a seat next to the fireplace with your favorite book and sip a delicious latte or enjoy a selection of local wine and beer. This calming space is the ideal location to formulate an action plan for achieving your 2019 goals!
2. Ice Skating at Suncadia
Cle Elum is a hub for winter recreation including cross-country skiing and snowshoeing, skiing and snowboarding, snowmobiling and more! All of these snowy-season sports offer an adventure for the outdoorsy types, but our favorite way to get active in the chilly weather is ice skating! The perfect activity for all ages, with no prior skill required, ice skating offers a lovely time spent outdoors, so lace up your skates and hit the rink! Afterwards, warm up indoors at the resort's Fifty-6 Degrees Lounge for a heavenly hot cocktail or take the kiddos to Coal House Caffe for some cocoa! Whether your New Year's Resolution is to get active, get outside or get social, ice skating can get you on track to do it all!
3. A Scenic Drive on Barn Quilt Trail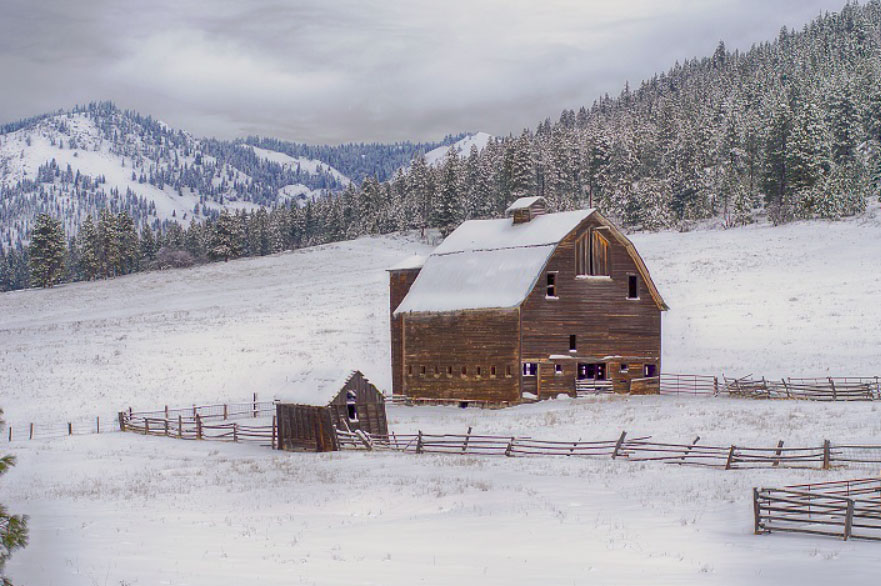 Set off on this self-guided driving
route
that features more than 100 folk-art murals on barns around Kittitas County! There are eight quilt blocks on Cle Elum's portion of the trail, the first located at the historic Carpenter House Museum and Gallery. The Barn Quilt Tour is a great option for enjoying the beautiful snowy landscape from the comfort and warmth of your own car. Each painted quilt block has its own story, see if you can discover what they mean!
4. Coal Mines Trail
This flat, easy trail is absolutely picturesque in the winter. Open to trekkers, horses, crosscountry skiers and snowmobiles,
Coal Mines Trail
offers more ways to explore Cle Elum during the cold months. The trail is great for hikers of all skill levels and provides a glimpse of the old mining activity that was once abundant in the area. This is the perfect starter trail to vamp up your hiking ability in 2019. Start out on here and work your way up to some more difficult paths, by the end of the year you'll be a pro!
5. Stella's
We love stopping by
Stella's
to warm up in the winter with a fresh and healthy meal. Try a latte or some delicious apple cider with their homemade caramel sauce and cozy up with a blanket on their patio to enjoy the beautiful snow-covered view. The homemade soup is a perfect choice on a chilly day and, for those of you that are brave enough, the ice cream is to die for! Stella's serves up fresh, organic dishes that will set you up for a successful year of healthy eating!
Posted: January 11th, 2019