It's time for cyclists to pack up their bikes and head to Upper Kittitas County!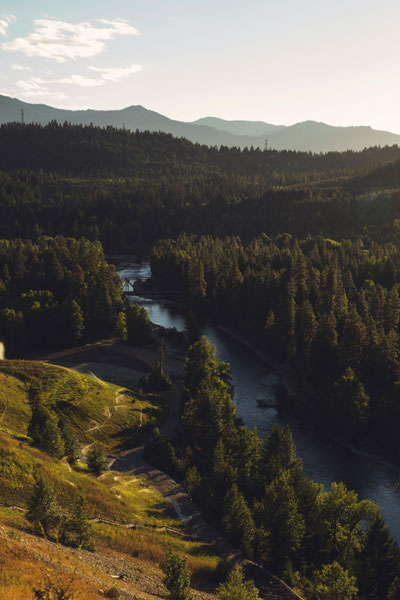 There are hundreds of miles of trails woven throughout the Cascade Mountains, Teanaway Forest and Suncadia trail system. Difficulty levels range from post-training wheel kiddos to hardcore downhill trail fanatics. We scoped out the trails and picked our top three spots to ride.
Cruise around Suncadia Resort with the Family
Not only is the Lodge at Suncadia an ideal vacation getaway for the family, the property's expansive trail system will keep youngsters busy all day! Suncadia offers miles of both paved and unpaved trail systems, ideal for families on the lookout for leisurely rides after breakfast. Visit
www.suncadia.com
for trail maps and more information.
Go the Distance on the Palouse to Cascades State Park Trail
With over 200 miles winding through various Washington state climates and landscapes, endurance cyclists are in for a treat. Bike past hayfields in Ellensburg and along railroad tracks into Cle Elum, don a helmet-light as you crunch gravel through an unlit 2.3 mile train tunnel and wind through the Milwaukee Railroad interpretive area at the South Cle Elum Train Depot. Be sure to pack a camera for this trek - expansive views of the Stuarts and the Cascades are worth a few snapshots!
Get your Adrenaline Pumping on the Rat Pack Downhill Course
One of the more challenging and rewarding rides that a mountain-bound cyclist can do is the Rat Pack Course, just a few miles off of the historic Coal Mines Trail in Cle Elum. This four-mile trail is packed with jumps, skinnies and an infamous ladder climb to the top of a boulder; a feat only the daring will attempt. The trail has areas with varying levels of difficulty, so all are welcome to gain experience or break personal records.
The paths are dry, the sun is shining and the mountains are beckoning riders from near and far up to Cle Elum this spring. Show us how you do your favorite trails! #howwedocleelum
Posted: May 19th, 2016

- Photo by 1123 Productions and Blog by Hayley Harrell
Back to Cle Elum Blog