Although fall is approaching, the weather is still pretty warm and it is important to remember to take necessary precautions while playing golf in the heat! With an average temperature of about 80 degrees and only a couple of days of rainfall throughout the summer months, Cle Elum heat can drastically affect your golf game. Check out these helpful tips on how to plan your tee time accordingly!
Pre-Match Preparations:
It is important to be prepared for a hot day of golf. Whether it is a day at the driving range, a short 9 - holes with some friends or an 18 - hole scramble, you can never be too prepared. Upon arrival to the course, make sure you have these items present to boost your overall performance out on the course: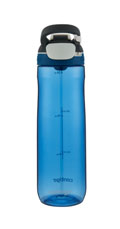 Water bottles:
Although most golf courses have hydration stations or beverage carts that make hourly routes, it is important that you come prepared with a large water bottle filled with cold water to keep yourself hydrated. Carrying a water bottle with you and staying hydrated can help decrease the risk of heat exhaustion, cramps and even heat stroke! To ensure that you are properly hydrated, it is best to start drinking water at least 1 hour before your tee time.
Sunscreen:
It is a well-known fact that regular use of sunscreen during the hot summer months can greatly decrease your risk of being yet another sunburn victim. But did you know that there are also many other benefits of wearing sunscreen? Sunscreen has been proven to prevent premature aging, such as wrinkles, leathery skin, etc. as well as decrease the users risks of skin cancer! Be sure that the sunscreen has a chance to dry before going out to the tee box and re-apply your sunscreen as directed.
Absorbent Towels:
It goes without saying that on any hot Central Washington day you will be sweating. Combine that with walking 18 holes and a few sliced shots that you need to chase down and you will be sweating buckets! To help fight all this perspiration, it is recommended to bring at least 2 absorbent towels to the course with you. One towel will be used for your face and arms while the second towel will be used to keep your hands and grips dry. As any golfer knows, it is important to ensure that all your contact points are dry to prevent any harm towards your swing by over gripping the clubs.
Golfing Gloves:
If you prefer to golf with gloves on; you may want to bring a few extra gloves to the course on hot days. As you work your way through the front 9 your gloves will start to get damp, if not soaked through. To combat this, it is best to come prepared with at least 2 gloves that you can alternate between after every few holes. This will make sure that your gloves are not becoming overly damp and alternating between gloves gives you extra time to dry off your hands with your absorbent towels!
Proper Wardrobe:
While battling the hot Central Washington Heat, it is best to wear lightweight, moisture-wicking clothes. Sweat absorbing shirts and pants are not only uncomfortable but they may restrict your freedom of motion. Golf clothing made from "technical fabric" is a great investment that will keep your range of motion unrestricted. It is best to wear light colors, such as white, beige, yellow, etc. that reflect sunlight rather than drawing it in.
Helpful Tips While on the Course:
Remember to Hydrate:
As you work your way through the front 9, it is important to remain hydrated to preserve your energy. The website PGA.com advises golfers to drink water at every hole and to avoid caffeine and alcohol if possible.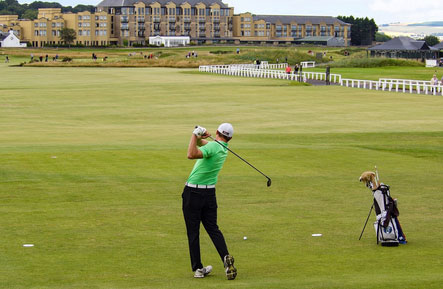 Stay Loose:
Whether you are at the driving range, playing 9 holes or going the full 18, it is important to stay loose. Golf is a very straneoud and hard sport; to simply tee-off you have to produce powerful movements, rotate strenuously around your spine, and put amazing amounts of pressure on joints, ligaments and tendons. Staying relaxed will not only boost your performance but will also prevent heat induced injuries such as heat cramps. To prevent muscle fatigue and a tightened swing, it is advised that golfers take a brief walk between strokes and incorporate frequent stretches into their golf game before each hole.
Do Not Overheat:
It is okay to take a quick break. If you are feeling any symptoms of heat exhaustion (such as dizziness, heavy sweating, muscle cramps, etc), it is recommended to take a break and follow these steps;
1. Get out of the heat quickly and into a cool/shaded place.
2. Lie down and elevate your legs to get blood flowing to your heart.
3. Remove any tight or extra clothing.
4. Apply cool towels to your skin.
5. Drink fluids, such as water or a sports drink.
Recommended Golf Locations in Cle Elum:
Now that you have more information on ways to combat the sweltering heat, we encourage you to check out these exceptional golf courses:
Prospector at Suncadia
3320 Suncadia Trail
Cle Elum, WA 98922
Call: 509-649-6400
Created by the Palmer Course Design Company, Prospector is 18 holes of magnificent Mountain golf, featuring dazzling views, rolling fairways and fast, medium sized greens. While extremely playable for all skill levels, Prospector's well-bunkered fairways and numerous water features present plenty of risk/reward challenges for the more accomplished golfer as well.
Rope Rider
3600 Suncadia Trl
Cle Elum, WA 98922
Call: (509) 649-6450
A practice range, private instruction, junior golf, group instruction and golf clinics are available for players of all ages and skill levels. From the longest tees it presents 6,500 yards of golf for a par of 72. The course rating is 65.0 with a slope rating of 100. Suncadia Resort - Rope Rider Course is a daily fee golf course with a 'Open' guest policy.
Sun Country Golf & RV
841 Saint Andrews Drive
Cle Elum, WA 98922
Call: 509-674-2226
Enjoy the fun and challenging 18 hole, Alpine course. Sun Country is an updated 18 hole course that is sure to challenge even the veteran golfers. Sun Country has some of the most breathtaking views in Eastern Washington. The atmosphere is laid back and a great place to bring a foursome that is looking for an affordable relaxing round of golf that will be remembered.
Tumble Creek At Suncadia
501 Honolulu Dr.
Cle Elum, WA 98922
Call: (509) 649-6484
The private Tumble Creek course provides picturesque views over a par-71, 7,070-yard Tom Doak signature layout. For tee time reservations, instruction, or more information, call 866-715-5050. Designed by Tom Doak, the Tumble Creek golf course opened in 2005.