Gold was first discovered in Cle Elum in 1867 when a prospecting party, consisting of two Goodwin brothers and three others, was following an Indian trail leading through the Swauk to the Peshastin district.
While camping near Swauk Creek, one of the men in the party started panning for gold on a bar in the stream and came up with what appeared to be fine gold, but the others in the party were doubtful. After naming the place Discovery Bar, they continued on to the north.
In the fall of 1873, the Goodwin brothers again passed through the Swauk in company with W.H. Beck and two other prospectors. Discouraged after many days of unsuccessful prospecting, one of the men suggested they prospect Swauk Creek.
Benton Goodwin went down to the creek for a bucket of water, turned over a rock and found a gold nugget. Leaving their supper, the rest of the men set to work and within an hour had over five dollars of coarse gold and a nugget worth over one hundred dollars.
The party members decided to keep the find a secret; then worked for several days until their provisions ran out and they were forced to send out for supplies. From there, the news spread quickly and soon a gold rush was on! Before the rush, however, the party had secured somewhere between $500 and $600. One day, it is said, they dug out $150 with a butcher knife.
(ANOTHER STORY, A Collection of Stories About the Early History of the Upper Kittitas County in Washington State, published 2013, Northern Kittitas County Historical Society, Page 29)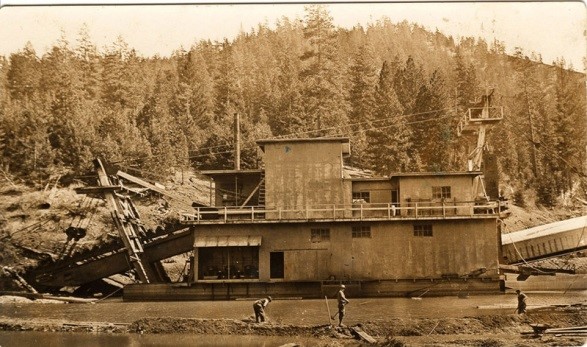 (Gold dredge on Swauk Creek, 1915. Photo courtesy of Dr. James E. Brooks Library, Archives and Special Collections, Frederick Krueger Collection, Central Washington University, Ellensburg, WA)