Snowshoeing is a winter activity that is starting to become more and more popular in our region and can be traced back thousands of years ago as an essential mode of transportation! So before you plan a snowshoeing expedition through Cle Elum, take a look at this beginner's guide to snowshoeing to learn more about what you can expect.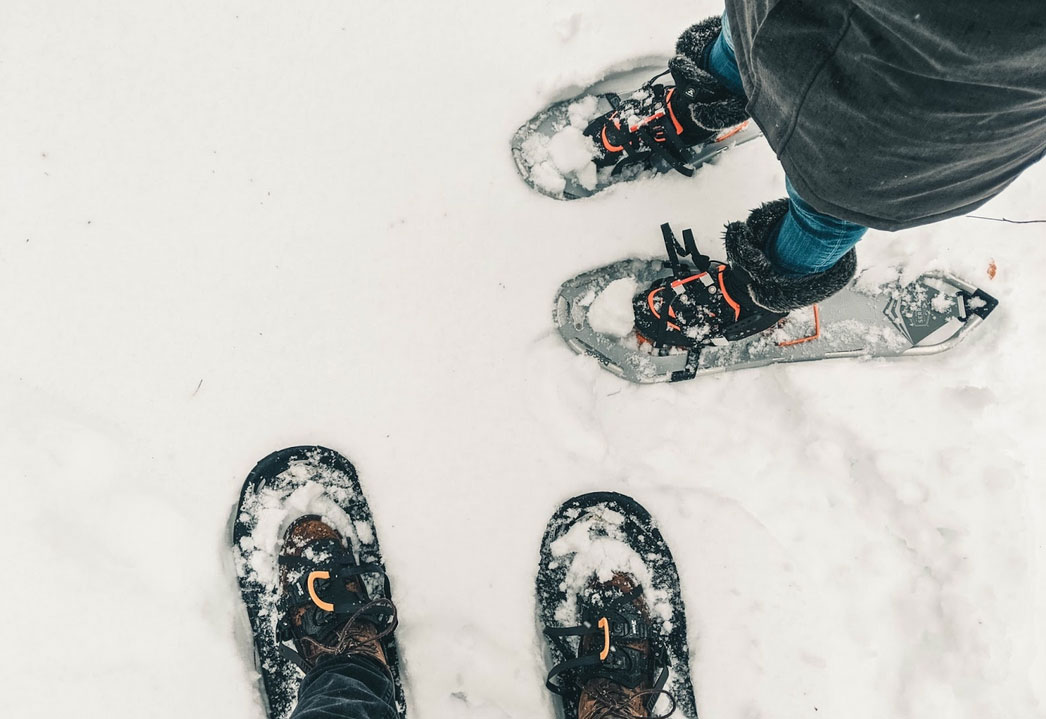 Pack Accordingly
Snowshoeing is a winter sport, so packing accordingly is extremely important for your safety. Here is a basic list of what you should bring with you on snowshoeing trips:
Snowshoes
Warm, waterproof boots
Proper clothing (base layer, mid-layer, outer layer, hat, gloves, etc.)
Snow poles (optional but recommended)
Navigation equipment (map, compass, GPS, etc.)
Headlamp
Sun protection (sunscreen, sunglasses, etc.)
First aid kit
Food and water
Extra pair of clothes (including socks!)
Calorie heavy snacks
This is just a basic list of essentials we recommend packing, so if you think you'll need anything else, bring it! If you find that you've forgotten something or want to rent or purchase equipment in Cle Elum, we have plenty of
local shopping opportunities
that offer outdoor recreation gear.
How to Choose the Right Snowshoes
As a beginner, you may not know which snowshoe is best for your upcoming adventure. You will most likely be renting snowshoes for your first endeavor, so the place you are renting from will be able to steer you in the right direction of which snowshoe is best for you. However, if you are planning on buying snowshoes, flat terrain snowshoes are a fantastic first choice. They are great for beginners and offer solid value as they are easy for walking on flat to rolling terrain! Make sure to check the maximum recommended load for your snowshoes so you don't exceed it and consider what kind of snow you will be walking on!
How to Snowshoe: The Basics
Snowshoeing can vary in difficulty depending on the terrain and whether you are going up, down, or are on flat ground. If you are walking on flat or rolling ground, snowshoeing is pretty easy. Try to make your strides wider than usual to avoid stepping on the insides of your snowshoe frames.
If you snowshoe uphill, try to use your toe or instep crampons for traction. Make sure your feet are firmly placed into the snow and if you have poles, those are also placed firmly in front of you. If you happen to be in powdery snow, try the kick-step technique. This technique is where you literally kick into the snow with the toe of your boot to create a step. This technique can be difficult to master but will help if the conditions are right for it. If you are on hard-packed snow, you should rely on the traction of your snowshoes and your poles.
When snowshoeing downhill, keep your poles planted in front of you, keep your body weight back, and your knees bent and relaxed. When stepping down, try to plant your heel first. Use your poles to your advantage as well because they will give you additional balance and control while you make your way downhill.
Where to Go Snowshoeing
There are plenty of places to go when you are just a beginner snowshoer, such as cross-country ski resorts, permit areas, national forests, state parks, and more! You can also sign up for a snowshoe tour or class if you want to learn a bit more before venturing off on your own. In the meantime, here are a few places you can go snowshoeing near Cle Elum that are great for beginners.
Keechelus Lake via the John Wayne Trail
Cabin Creek Nordic Ski Area
Middle Fork Teanaway River Trail
Gold Creek Snowshoe Trail
Salmon La Sac Sno-Park