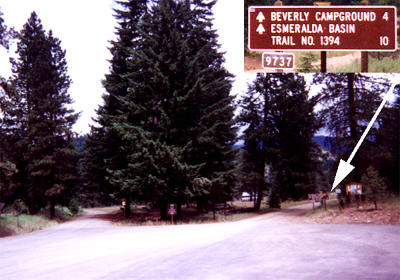 Beverly Campground
From Cle Elum, travel east/northeast on Highway 970 for about 8.5 miles. Turn left on Teanaway Road and travel for 7.3 miles. Turn right (north) on North Fork Teanaway Road for 5.8 miles. At the end of the pavement, turn right onto FS Road 9737 and follow it for 4 miles. Campground is on the left.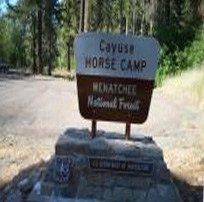 Cayuse Campground
At the end of the Cle Elum Valley Road #903, north side of road, 19 miles north of Cle Elum. Must have livestock to camp at Cayuse Campground.

Facilities: Potable water, flush toilets, community kitchen, stoves, tables, loading ramp, troughs, corrals and hitching posts. Units: 13 camping. Activities: Tent and trailer camping, picnicking, fishing, hunting, hiking, and horseback riding in the area.

This is a popular gathering place for trail riders heading into the mountains on several popular trails. It has spacious tent and RV sites. Water available from hand pumps. Opens once snow as cleared, sometimes not before late June early July.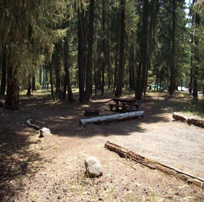 Cle Elum River Campground
2,300ft elevation. Located at the head of Lake Cle Elum along the Cle Elum River, this campground offers 23 trailer/tent sites and a reservable group site with a capacity of 55+ people. The campgrounds are in a mixed conifer forest and surrounded by mountains.

Activities include fishing, boating on the lake, and hiking nearby trails including Howson Creek Trail #1349 for hiking, horse riding, and mountain biking.

As of August 2015, potable water is not available at this campground.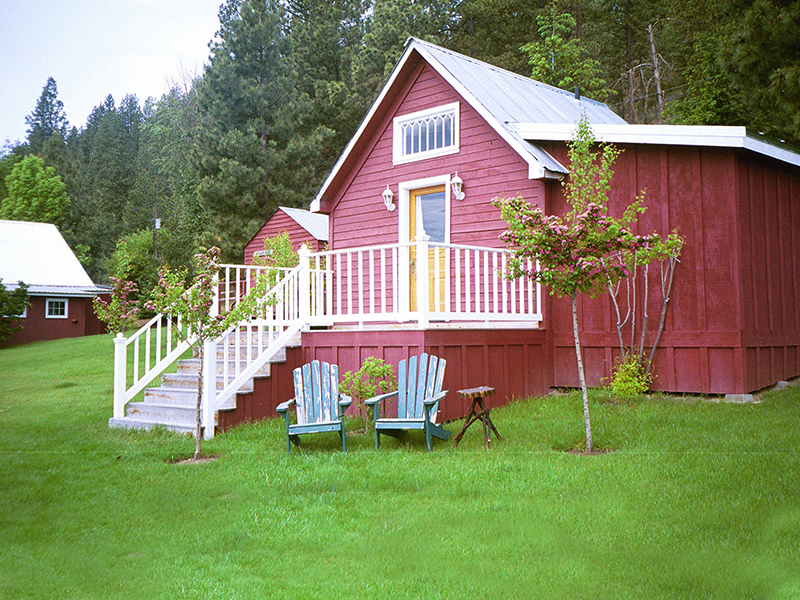 Flying Horseshoe Ranch
3190 Red Bridge Rd.
Cle Elum, WA 98922
509-968-4578
View Website

Email
Since its beginning in 1904, as the Teanaway Valley Farm, this homestead has welcomed neighbors on horseback and travelers by stagecoach and wagon. Searching for the ideal place to raise their young family, George Sr. and Glory Blackburn fell in love with and purchased this dream-come-true in 1955. Operating exclusively as a children's summer camp until 2002, the Ranch was a summer home for three generations of campers.

Now open for year around Western Adventure, we are welcoming families, business, school and social groups, 4H clubs, horsemanship clinics, weddings and parties. Please join us!
Ken Wilcox Campground
From summit of Blewett Pass on Highway 97, 24 miles northeast of Cle Elum, WA, travel south about 4 miles on Forest Road 9716 to the junction with Road 9712. Follow Road 9712 for about 4 miles to the campground.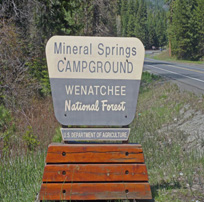 Mineral Springs Campground
Located along Highway 97, this campground offers 7 trailer/tent sites and a group site with a 50 person capacity.
Sun Country Golf Resort & RV Park
841 St Andrews Dr.
Cle Elum, WA 98922
509-674-2226
View Website
Sun Country Golf is a wonderfully maintained 18-hole golf course set amongst the Cascade Mountains and provides the perfect relaxing weekend get-away. Located near the heart of the Cascade Mountains 90 minutes East of Downtown Seattle.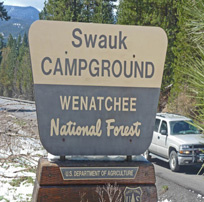 Swauk Campground
From Cle Elum, WA travel east on Highway 903 and continue onto Highway 10 E / 970 E. Follow Highway 970 E for 9.7 miles and continue north onto Highway 97 N for 10.1 miles. Campground is on the right.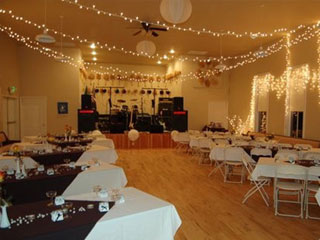 Swauk Teanaway Grange
1361 Ballard Hill Road
Cle Elum, WA 99822
509-857-2580
View Website
A one-room schoolhouse built in 1904 restored after a fire in 2004. The Grange hosts a variety of neighborly events.

The Last Resort
14254 Salmon La Sac Road
Ronald, WA 98940
509-649-2222
View Website
The Last Resort offers something for everyone. We're made up of six different ingredients, clicking around our website will help you get acquainted with us! Escaping the bustle of everyday life? Enjoy our motel and RV sites. Need a hot meal? Our home-cooking, family-style restaurant is sure to hit the spot! Take advantage of the variety of rentals available: snowmobile, electric mountain bike, kayak, canoes, jet skis, paddleboards.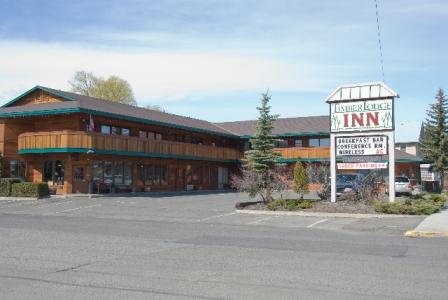 Timber Lodge Inn
301 W 1st St.
Cle Elum, WA 98922
509-674-5966
View Website
The Cle Elum hotel providing lodging in the town center is the TimberLodge Inn. Just a minute off of I-90 and within a block of some of Cle Elum's best restaurants the TimberLodge Inn provides great rooms with a morning breakfast, free WiFi, new spa hot tub area, and pet friendly rooms. If you are either passing through Cle Elum or Cle Elum is your final destination the Cle Elum Hotel that provides the most in lodging is the TimberLodge Inn.