Cle Elum, Washington is the hub to some of the best trail heads in the state of Washington. Cle Elum has hundreds of miles of trails close by, this is why Cle Elum, Washington, is known as a recreation hub for the Pacific Northwest. Summer is one of our most popular times for folks to hit the trails, however we feature many year-round hiking options to explore. With a fantastic four-season climate and 260 sunny days each year, Cle Elum is one of the best places in the entire northwest to choose for your next hike. It is nearly impossible to sum up the hiking opportunities in Cle ELum, Washington, we invite you to hike every trail listed below. We look forward to seeing you soon. Please share your experiences with us on our social media links below.
Free Days in Washington State Parks
No Discover Pass Needed on:
National Get Outdoors Day
National Park Service's Birthday
National Public Land's Day
Veteran's Day (read more)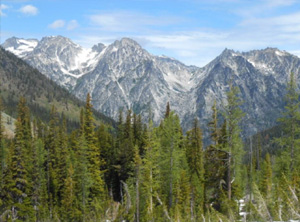 Navaho Pass Trail
The Navaho Pass offers just about everything you want in a hike, from wildflowers to fascinating geology and just enough elevation gain to keep interest.
Palouse To Cascades State Park Trail
150 Lake Eastern State Park Road
Easton, WA 98925
Palouse To Cascades State Park Trail is a 1,612-acre park that was once part of the path of the Chicago-Milwaukee-St. Paul-Pacific Railroad. More than 100 miles of trail extends from Cedar Falls to the Columbia River. High trestles provide spectacular views of the valley below.
Discover Pass:
A Discover Pass is required for vehicle access to state parks for day use. For more information about the Discover Pass and exemptions, please visit the
Discover Pass web page
.
Peoh Point
Peoh Point offers 180-degree views of the Cle Elum Valley and the Stuart Range from atop a 2,000-foot cliff.

From South Cle Elum follow South Cle Elum Way across the river, turn right on Madison Avenue just before the 'T' in the road. Turn left on 6th which becomes Westside Road. In a short distance watch for a paved road to the left with a sigh - Peoh Point 10 miles. Turn there onto FR 3350. At the top of the ridge, two miles short of the lookout is a 5-way intersection. Park here.
Rat Pack Trail
Main Ridge Rd
Cle Elum, WA 98922
Rat Pac Trail is a 6.7 mile lightly trafficked out and back trail that offers the chance to see wildlife and is rated as difficult. The trail is primarily used for mountain biking and is best used from March until October.
Red Mountain
Discover an amazing 360-degree panorama of the various peaks in the Snoqualmie Pass area when you climb the red west slope of Red Peak.

The trailhead starts conveniently form the Pacific Crest Trail (PCT) parking log just off I-90. The first 2.5 miles are on the PCT trail. At the junction, stay left on the Commonwealth trail, 1033. Continue for another 2.5 miles, first climbing gradually, then more steeply through a number of switchbacks.
Red Top Lookout
This is a quick, 1-mile trail moderately trafficked trail located near Cle Elum that offers the chance to see wildlife and is perfect for all skill levels, including kids. This hike offers a look at a still operational fire lookout that was built in 1952. The trail is best used from June until October.
Back to top
↑
For a full list of trails, maps and
guides
, visit the Cle Elum Visitor's Center on 1st Street.
Share your hiking adventures with us online! #CleElum